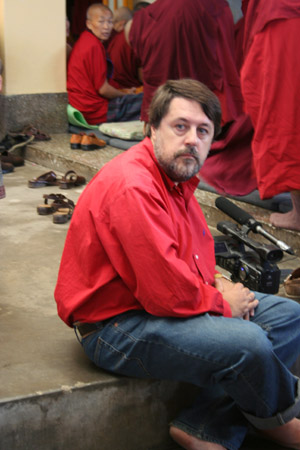 Vitali Manski is one of the most successful documentary filmmaker in Eastern Europe. His films have been exhibited at over 300 film festivals in various cities, including Cannes, San-Sebastian, Berlin, Amsterdam, Oberhausen, San Francisco, Locarno, Munich, Toronto, Montreal, Turin, Krakow, Rio de Janeiro, Yamagata, Lisbon etc.
Awards earned by Manski include Silver Dove at Leipzig Film Festival, Prize for Best Directing (Locarno), Prix court metrage «Vision du reel» (Nyon), Golden Spire (San Francisco), Europe Prize diploma etc.
Films by Manski have been repeatedly broadcast on major international TV-channels. Several films were co-produced with Germany, France, Finland and other countries.
Manski created unique cinematic portraits of the three Russian presidents: Michail Gorbachev, Boris Yeltsin and Vladimir Putin. No Russian or foreign documentary filmmaker has ever succeeded to get that close to Kremlin leaders, as Manski did in his famous trilogy.
Manski is a member of the Russian Film Academy and academician of the Russian Television. He is president of Moscow Documentary Film Festival Artdocfest and general director of Lavr Documentary Film Award.
Vitaly Makski produced over 300 documentaries.
Filmography
Dogs 1988 / Finish 1989 / Boomerang 1989 / Lenin's Body 1992/ Etudes About love 1991-1995: Cuts Of Another War 1993 / Imperial dreams 1993 / Moscow-Berlin: Way Back 1993 / Bliss 1996 / Private chronicles. Monologue 1999 / Yeltsin: Other life. 2001 / Gorbachev after the empire 2001 / Putin: Leap-year 2001 / Anatomy of TATU 2004 / Virginity 2008